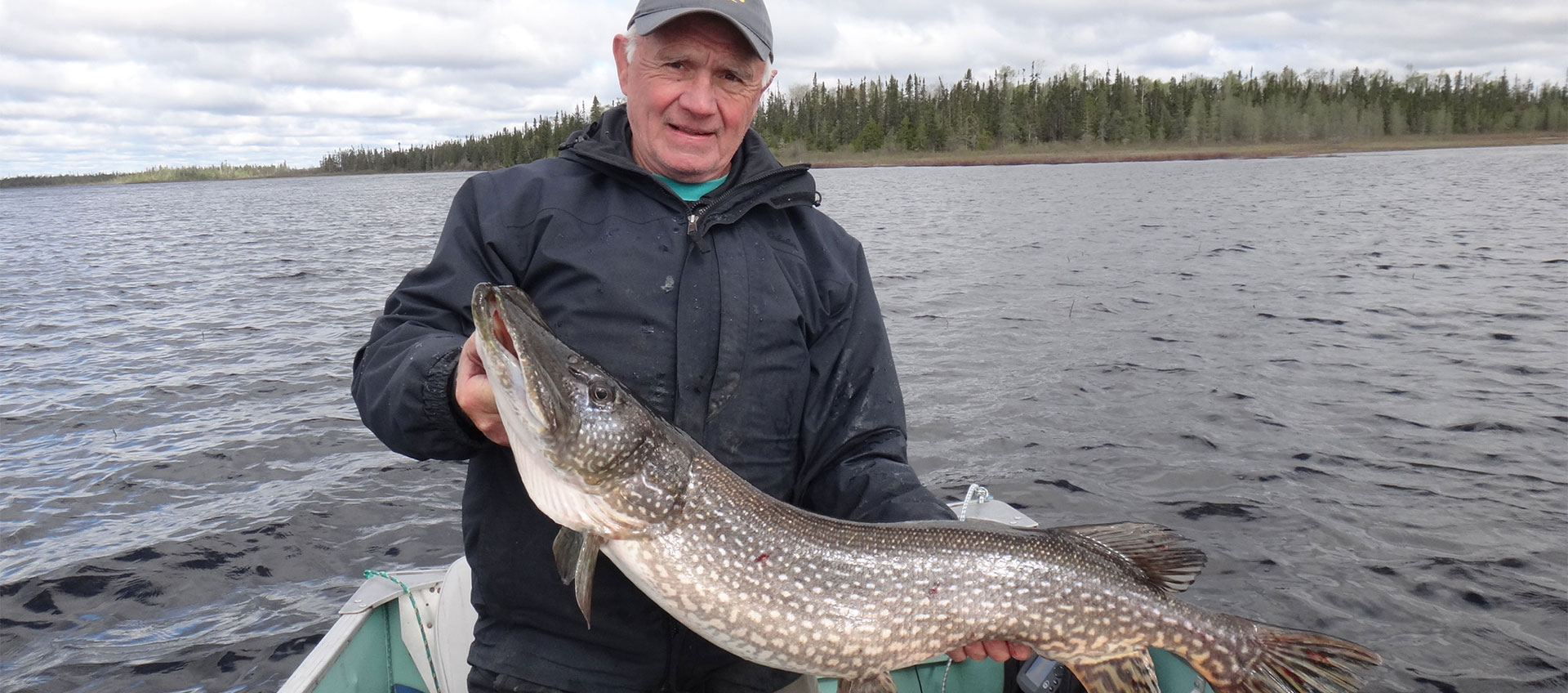 Ontario Northern Pike Fishing
There are some Monster Northern Pike in our Ontario lakes. Every year guests catch & release Northern Pike in the 15 to 30-pound range and once in a while, we hear reports of Northern Pike being caught that are 48 and 52 inches. A 49-inch Northern Pike with normal length and girth proportions would be over 25 pounds and a rare fish anywhere in Ontario. We don't want you to expect to catch a trophy Pike that big but the opportunity is there and it does happen. Marshall, Dusey, and Twin Lakes have all produced rare Northern Pike in the 40lb class.
Ontario Fly-in Lakes for Northern Pike
Northern Pike is the top predator in the Arctic Watershed and everything is on the menu. They are not picky eaters. Guests catch many Trophy Pike while Walleye fishing with small jigs or casting tiny spoons for trout. Your chances of catching a big Northern Pike are much greater if you are targeting them. Since most of our guests come for the world-class Walleye fishing, not nearly as many trophy Pike are caught as could be. But it does not have to be that way.
Ara Lake and Marshall Lake Lodge have big Northern Pike and some massive trophies have been caught on these lakes, but we tend to send our guests who want to concentrate on Walleye fishing to these lakes. Surprisingly, even though Pike numbers are much lower, the biggest Pike get caught on our fly-in river lodges. Our river camps have Brook Trout, Chub, and Suckers for the Pike to feed on. All these fish have a much higher calorie content than Walleye and enable the Northern Pike in the rivers to get huge. You will not catch high numbers of Pike like our other lakes but if your goal is to catch a 25-pound Northern, this might be your ticket.
Dusey Lake Lodge has a ridge that goes right across the west end of the lake where it drops from 6 to 15 feet deep. Our guests who know about this ridge catch multiple Northern Pike over 20 pounds and sometimes on the same day. It is surmised that the Pike hang out along the ridge because Walleyes and other fish move back and forth along the ridge. It's the perfect spot for ambushing their prey. In Teabeau Lake Outpost Camp, the water levels are always rising and falling. The Walleyes, Suckers, and Brook Trout are constantly moving up and down the river when the flat areas of the lake get shallow. Big Monster Northern Pike patrol the hole just below the first rapids, which is upstream from the cabin. They feast on everything that moves. Trout anglers report bringing in Brook Trout that are shredded apart like paper. Guests, while fishing for Walleye, have reached down into the water with a paddle to un-hook a jig off a log only to watch the log swim away. We hear these stories all the time. A big trophy Pike is rare or it would not be a trophy.
Drive-to Camps on Lower Twin Lake
Ironically, one of the biggest Northern Pike ever caught in the Nakina area or even Ontario was caught and released off the dock at our base camp back in 1998. It was 56 inches long and weighed over 40 pounds. We are sure he is still swimming around the lake somewhere. Upper Twin Lake and Lower Twin Lake have good Pike fishing and Pike can be found in all sizes and in good numbers. They are most common in the 2 to 6-pound range but 20-pound Pike are caught and released from time to time. Twin Lakes also has Whitefish and where there are Whitefish there are always big Pike. It seems many of the biggest Pike in these lakes get caught in the early spring or late fall. In the spring, Walleyes spawn in the drowning River and in the fall it's the Whitefish. Larger Pike spend much of their time down deep feeding on Whitefish in the summer but are shallow and concentrate at the river mouth to feed on Walleyes or Whitefish, depending on whether it's spring or fall.
How to Catch Northern Pike in Nakina
Northern Pike are at the top of the food chain in most Ontario lakes. They eat just about anything. Walleyes, trout, whitefish, Perch, Chub, Shiners, Frogs, Snakes, Birds, bugs, and other Pike are all on the menu.
Traditional Locations:
Small to medium-sized Northern Pike generally stay in thick weeds and close to shore. They will stick to the back of bays where the water warms up quickly with the morning sun and they have lots of weeds to hide in.
You can find big Trophy Northern Pike in the back of bays and in thick weeds as well but generally, the really large Northern Pike are more likely to hang around points leading into bays, narrows between islands, or in river currents. They need breathing room and like to ambush bigger prey like Walleyes and Brook Trout. They like to hang around areas where Walleyes are migrating through.
How to Catch Northern Pike
Flyfishing For Northern Pike:
Flyfishing for Northern Pike is getting very popular. Many times the Pike are in a sensitive mood and spook easily and the sound of a Dardevle or spinnerbait hitting the water can spook them. Time like this is when you use a more subtle approach and pop a Pike fly over their heads. Pike love to eat Dragonflies so this is not much different. Another advantage is in heavy weed cover you can plop a Pike Fly into small open areas between the weeds. The most popular Pike flies are the Rabbit Strip Pike Bunny, Dahlberg Diver, and the Red & White Pike Fly.
Deep Water Pike:
On lakes where there is a high population of trout and Whitefish, many of the massive trophy pike will go deep to feed. Trout and Whitefish have more oil and are far more rewarding in calories than Walleye or small pike. Deepwater pike fishing is something few people ever think about trying. There will be 20 to 25-pound pike patrolling the bays and points but the really big 35-pound+ pike will be down deep. There are two ways to catch them down deep. You can jig with lures like you are ice fishing or troll for them. Trolling down deep for Pike is basically the same as trolling deep for Lake Trout. The difference is you use Dardevle Spoons or bigger Muskie lures. This is not a popular way of fishing because you are not going to catch smaller pike like you do close to shore and with a limited amount of holidays, most people prefer to see action and hope they come across a big one.
Lures & Flies:
Northern Pike hit just about anything that moves. The best lures to use are lures that come out of the fish's mouth easily without harming the fish like Dardevle and Spinnerbaits. Mind you, over the last 30 years, so many people have been using Dardevles for Pike fishing that many Pike have learned to stay away from them on some lakes. They are still considered the top Pike lure by most people. Many believe the red-&-silver Dardevles work best in clear water while the yellow-five-of-diamonds Dardevles work best in murky water. Dardevles have also been called DareDevils but the proper spelling is Dardevle.
Fly-fishing for pike is also gaining in popularity. Fisherpersons are finding that you can cast your fly into small open patches in the middle of thick weeds and pick up Pike that are not practical to go after with traditional lures. Fly fishing looks cool and romantic in TV commercials and movies but it's a lot harder than it looks and can be a very frustrating way of fishing if the pike are under shore cover like large over-hanging trees. Flies are also dangerous to the fish because they get swallowed way down which can cause more harm to the fish. If you are going to fly fish, please use large barbless Pike flies.
Below is a list of good Pike lures:
Pike Trolling Lures:
J-ll Jointed Rapalas
J-13 Deeper Jointed Rapalas
Ziggy Lures
Willy Lures
Wiley Lures
Believers
Swimwizz
Large Mepps Bucktail Spinners
Lucky Strike Wooden Muskie Plugs
Heddon Muskie Plugs
Pike Casting Lures:
Dardevle Spoons
Williams Weedless Pike Spoon
Tinsel Tail Spinner
Large Bass Spinner Baits
Crank Baits
Jerk Baits
Suick
Large Mepps Bucktails Spinners
Rattle Baits
Top Water:
Top-Water Using a Spook:
Top-water fishing for Northern Pike with a Hedon Spook is an art form that seems to have been lost and needs to be carried on to the younger generation. There is no fishing method for Pike that is more exciting than Working the surface with a Spook and getting those Monster Pike splashing at the surface. Over the years I have seen people try to fish with Spooks and they just can't get it right so we are going to show you the most exciting Pike fishing method known. Since I have not seen anyone besides myself use a Spook since the early 80s, I think it's time we get people back into them.
1st) You have to cast your Spook out. The perfect spot to cast a Spook is over-top a thick weed bed that is just under the surface, in between patches of lily pads, or alongside Bulrushes. The whole purpose is to be able to fish in places that are not practical for other lures.
2nd) Once your Spook hits the surface, don't start reeling in yet. Give it a couple of yanks so it makes splashes on the surface like a wounded frog or bird. Many times the Pike will hit the Spook before you start reeling in.
3rd) This is the tricky part. You have to hold your rod up as high as you can and pull the line tight so your fishing line is not in the water or even touching the surface. Your line has to be out of the water or the Spook will not make the proper motion when you reel it in.
Start to reel in slowly at a constant speed. While reeling in you have to jerk your rod every second. When you jerk your rod, the Spook will slide to one side. When you jerk it again, it should slide to the other side in a crisscrossing motion. You have to get a rhythm going. As you are reeling in, your Spook splashes from side to side and this drives the Pike crazy.
Please Note: Fish in the north avoid artificial scents. Use unscented rubbers and do not put scent on your lures. Wash your lures before you head north if you have ever used artificial scents. Salted grubs work great!
Northern Pike photo gallery at 7 Lakes Wilderness Camps.
Northern Pike Photo Gallery Gallery