Dusey Lake Outpost - Ontario, Canada
Dusey Lake Outpost is located on the north shore one mile from the river mouth and is a 55 minute flight time from Nakina Airport.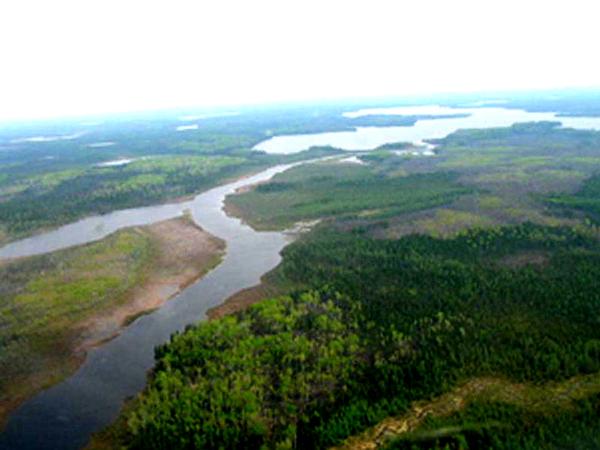 About Dusey Lake
Dusey Lake is the lake that everybody talks about on fishing message boards but few have been lucky enough to actually fish it. In all fishing groups, there is a difference of interest. Some guys want Walleye, some guys want Pike and others Want Brook Trout. Dusey Lake is the perfect fly-in lake and offers everybody in your group what they are looking for.
The Walleye fishing is non-stop. The most common size Walleye is in the 16 to 20-inch range but there are some big trophy females in the lake and guests do catch walleyes in the 25 to 32-inch range. Walleyes and Brook Trout are constantly migrating up and down the river. Right out in front of our cabin and stretching across the lake is the Gene Smith Ridge. This is a ridge where the water drops from 6-foot to 15 feet deep and Monster Northern Pike just hang off this ridge ambushing everything that moves. There have been guests who have pulled five 20+ pound Northerns off this ridge in an afternoon. We don't want you to expect that but when you are in the right place at the right time anything can happen. In the spring there is awesome Brook Trout fishing upstream at Loten Falls. In the summer you can take the canoe and go past the falls or downriver to find some great Brookies, which are common in the 1 to 3-pound range but have been caught in the 4 to 7-pound range.
Max Depth: 22 feet
Shoreline: 27 miles
Area: 45.6 square miles
Fish Species: Walleye, Northern Pike, Perch, Brook Trout, Sturgeon
Best Known For: Tons of Walleyes, Big Northerns, Big Brook Trout
Fly-In Fishing
Each year for the last few years guests to our fly-in lodges have caught-&-released multiple Northern Pike over 50". Guests have also been catching Silver Pike, which is a sub-species of the Northern Pike, and have also been catching more and more Blue Walleye each year.
Over the last couple of seasons, we have been doing a lot of fishing for Brook Trout throughout the summer. We have been fishing upstream and downstream looking for where the trout are holding up. We have had surprising success farther upstream above the falls and downstream below the main outflow rapid. We have made a couple of new portages around the various rapids to make it easy for guests to find the best fishing. Our reward was catching many nice Brookies. Take a look at some of the photos in our trout photo gallery and you will see our success. There are Walleyes and Northern Pike up and down the river and the potential to find a spot that nobody has ever fished before. Dusey Lake also has outstanding Perch fishing and there are some Whitefish. Dusey Lake has Sturgeon but you cannot fish for them because they are now protected under the Endangered Species Act. If you mistakenly catch a Sturgeon you must let it go right away. If you try to bring it back to camp to show your buddies you could get into some serious trouble. It's OK to take a quick picture.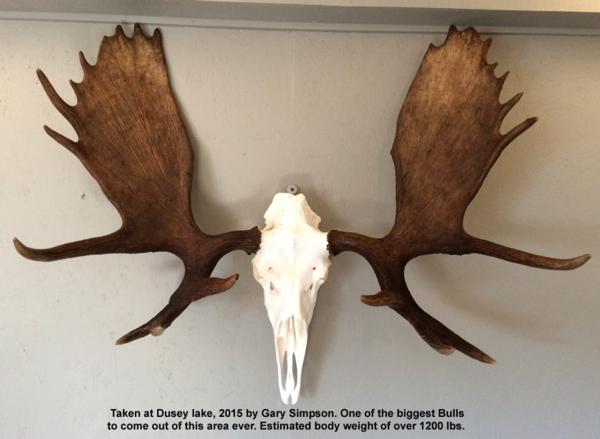 Fly-In Moose Hunting
The biggest Bull Moose to date was harvested at Dusey. This Bull has been seen and sought after for several years and finally fell to Gary Simpson who was hunting from our camp.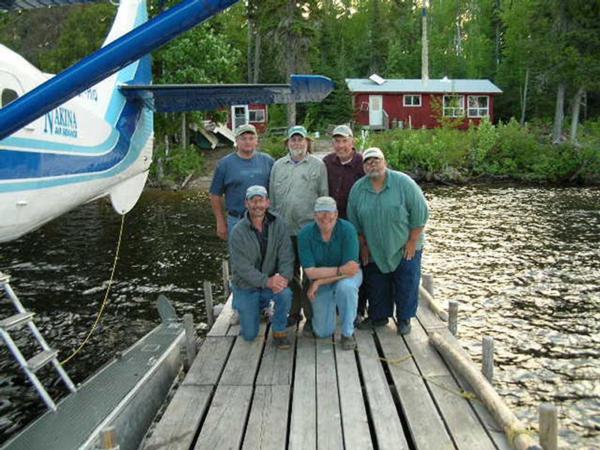 Overview of the Cabin
Dusey Lake has a new two-bedroom cabin that will accommodate up to 10 persons.
The cabin is fully equipped with propane lights, a propane stove, and a refrigerator. There are pots, pans, dishes, coffee pots & cups, strainers, stove-top toasters, cutlery, can openers, and everything else you need. The beds are bunk beds with mattresses. You need to bring your own pillow, sleeping bag, and bedroll cover. There is also a large kitchen table with benches and chairs. In the center of the cabin is a wood-burning stove for heat.
Indoor electric lights are powered by a small generator that also charges the battery system. The battery system is used to power an electric water pump used by both the kitchen sink and shower. As propane costs a fortune to fly in, the water is heated with an "on-demand system" which is much more energy-efficient. By mid-June, most guests go swimming to get clean.
Equipment List
Electricity via generator/electric lights
Shower and running water at the sink
Propane fridge and stove/oven
Propane grill and fish fryer
Kitchen cookware and dining ware
14 ft. boats w/swivel seats, 9.9 hp. Yamaha 4 stroke motors, anchors, paddles.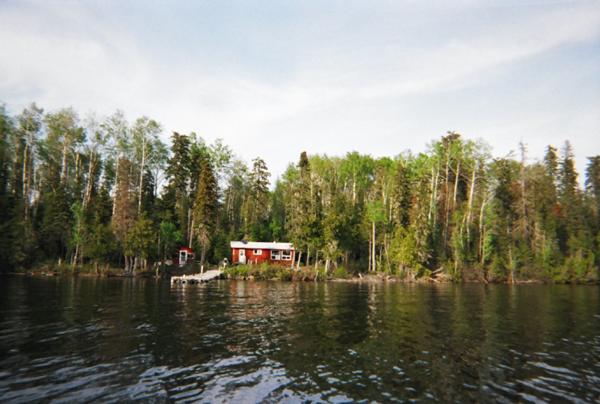 Booking & Reservations
Dusey Lake Outpost has a max occupancy of 10. If you would like to reserve the Dusey Lake Outpost for your group, please click the link below or give us a call at 7 Lakes Wilderness Camps to speak with Brad or Helen.