Ontario Drive-In Fishing Camps - Walleye Cove Lodges
Affordable Canadian Drive to Lodges & Outposts
Walleye Cove Camp is located 6 miles (10 KLM) east of Nakina on Lower Twin Lake Ontario Canada. This is a private camp on a peninsula making it a fun and scenic drive in fishing lodge & outpost. If you are looking for a reasonably priced, affordable fishing resort in Canada, Walleye Cove is a great option. Our camps are set up for the perfect DIY fishing trip on a budget. Plan your next fishing vacation with 7 Lakes.
Contact Brad to plan your next fishing trip today! (715) 949-7777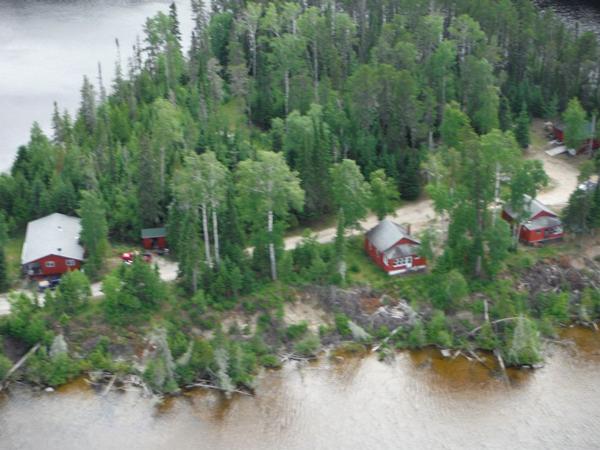 The Fishing Outposts
The Ontario Fishing Lodges
Walleye Cove features three large, fully-equipped housekeeping cottages with outstanding fishing for walleye and northern pike as well as many drive-to locations for brook trout and lake trout.
Our roomy fishing outpost camps have awesome views of the lake where guests can watch unbelievable sunrises and sunsets. There is a centrally located fire pit with firewood provided, a real favorite with our guests. There is also a BBQ grill for each fishing cabin.
We offer cabin rental and can assist you in the perfect Ontario Do it Yourself fishing trip at an affordable price. Boats and motors can be rented or you can bring your own but our rental rates of cheap.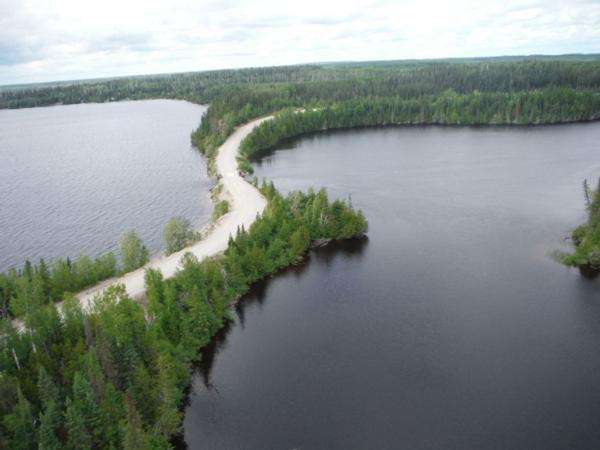 The Drive In To the Lodge
Area Lakes - Drive in Fishing Resort
Lower Twin, Upper Twin, Pete's Bay, and the Drowning River are all easily accessible from Walleye Cove. Pete's Bay is protected by an amazing fishery and it improves every year. A diverse lake habitat offers endless fishing opportunities for many styles of angling.
Max Depth Lower Twin: 120 feet
Max Depth Upper Twin: 110 feet
Shoreline: 29 miles
Area: 13.75 square miles
Fish Species in Twin Lakes: Walleye, Northern Pike, Whitefish
Fish Species in Drive-to lakes: Brook Trout & Walleye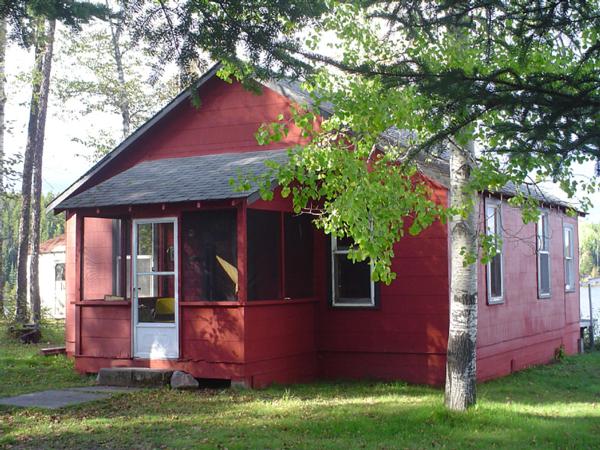 Outpost Cabin Rental on a Budget - Amenities
The fishing cabins are fully equipped with housekeeping. All have two bedrooms that comfortably sleep four adults with one double and three single beds each. Full bed linens are provided, but you will need to bring your own bath and beach towels. Fully equipped kitchens with propane stoves and electric refrigeration. (Note: please do not bring electric fry pans or hotplates as they overload the generator. Thank you.) Bathrooms have showers and flush toilets. Please be aware that all our water comes directly from the lake, fine for showers, but you will need to bring drinking water.
A conveniently located chest freezer is available to freeze your fish or game. "The Laundry Shed", new in 2016, for a small fee per load on the honor system is also available for guest use. Liquor, bank machines, gas, and groceries are available in Nakina and Geraldton. Liquor, bank machines, gas, and groceries are available in Nakina and Geraldton.
Number of Cabins: 3 Large Housekeeping Cottages
Max Occupancy: 30 people
Four-Legged Friends Are Welcome
To all our guests, you know we are always welcoming of your well-behaved four-legged family members. However, based on the recommendations of our vet, make sure your dogs are up to date on their shots. If you are traveling from the United States, then this is most likely redundant. If you are a Canadian resident, please do remember to get your pet up to date. Here is a list of the vaccines that are important. Needed but not limited to; Distemper w/ Lepto ( DHLPP), Rabies, and Bordetella ( Kennel Cough). Just so you know Lepto is contagious to humans. Thanks so much, Helen
DIY Ontario Fishing Trip
Walleye Cove is the perfect option for groups looking for great fishing and nice accommodations at an economical price. We can provide everything you need, or you can bring your own boat & gear and rent a cabin.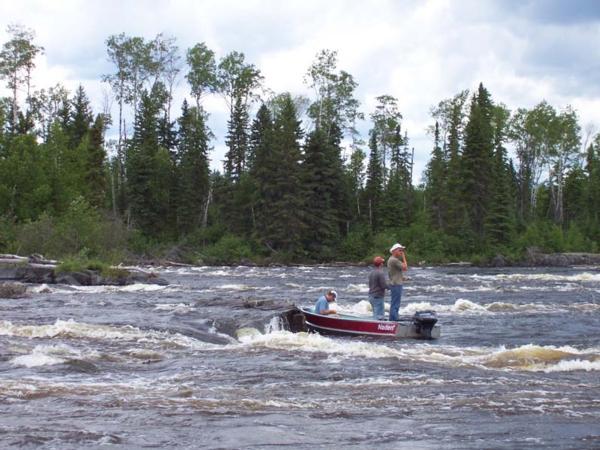 River Fishing Ontario
The Fishing Boats
Bringing Your Own Boat - You are always welcome to bring your own boat, no docking fees ever and there is plenty of room to park your trailer. This is a great option for groups trying to plan a Canadian fishing trip on a budget.
Affordable Boat Rental - Boats and motors are on-site for rental, ask Brad or Helen when booking your stay. Our boats are 14-foot deep-&-wide-hull Nadens, which is Canada's version of the Lund. They are very sturdy and roomy and built extra tough swivel seats with backs. By law, all boats are required to have a safety kit with floating rope, a waterproof flashlight, and a whistle. The boats are also equipped with anchors, paddles and bailing can.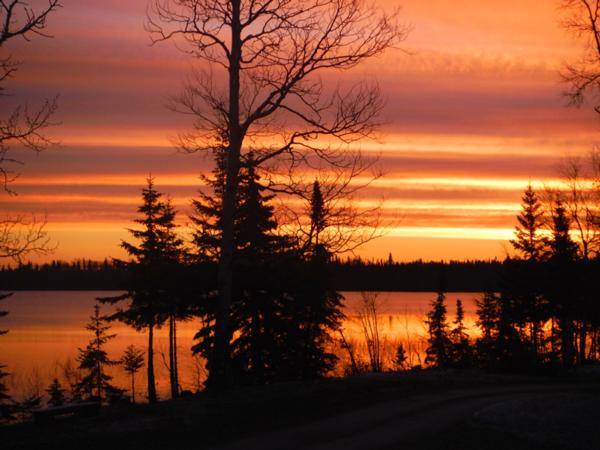 Sunset in Ontario
Fishing at Walleye Cove Outpost Camps
Walleye are of course the stars of the show. Lots of good-sized walleyes for the fish fry are sure to put a smile on your face. There are some real trophy-sized fish here too, so do not be surprised and keep your camera ready. Jigging is the most popular way to take your walleye. Trolling can also be productive.
Pike are plentiful and especially so in Upper Twin Lake. This system has produced record fish for Ontario. They feed on the whitefish and grow big and fat. Bring the big tackle and your camera. A perfect addition to your evening meal.
From Walleye Cove, there are also stocked brook trout lakes hidden back in the bush only accessible by logging roads. The Brook Trout are commonly in the 1 to 2-pound range but these lakes do produce 4 and 5-pounders from time to time. We keep their location a secret and only show our guests how to find them when they get here.
Depending on the mayfly hatch (late June), whitefish are a challenge. With their delicate mouth and habit of "rolling" you can have hours of fun. Dry flies that sink just a little are our favorite way to catch these beauties. From our clean waters, these fish are so tasty, especially when grilled.
Booking & Reservations
Walleye Cove has a max occupancy of 30. If you would like to reserve a cabin at Walleye Cove for your fishing group, please click the link below or give us a call at 7 Lakes Wilderness Camps to speak with Brad or Helen. We also offer Ontario fly-in fishing trips that are very affordable.