Ontario Fly in Moose Hunting Outfitters
Almost every year there are a few bulls with a 50" spread or bigger are taken from our camps. But most bulls taken run from a 44" - 48" spread.
Our moose tags are sold out for the 2022 season. We do have availability for outfitted hunts for moose hunters that have Ontario resident moose tags.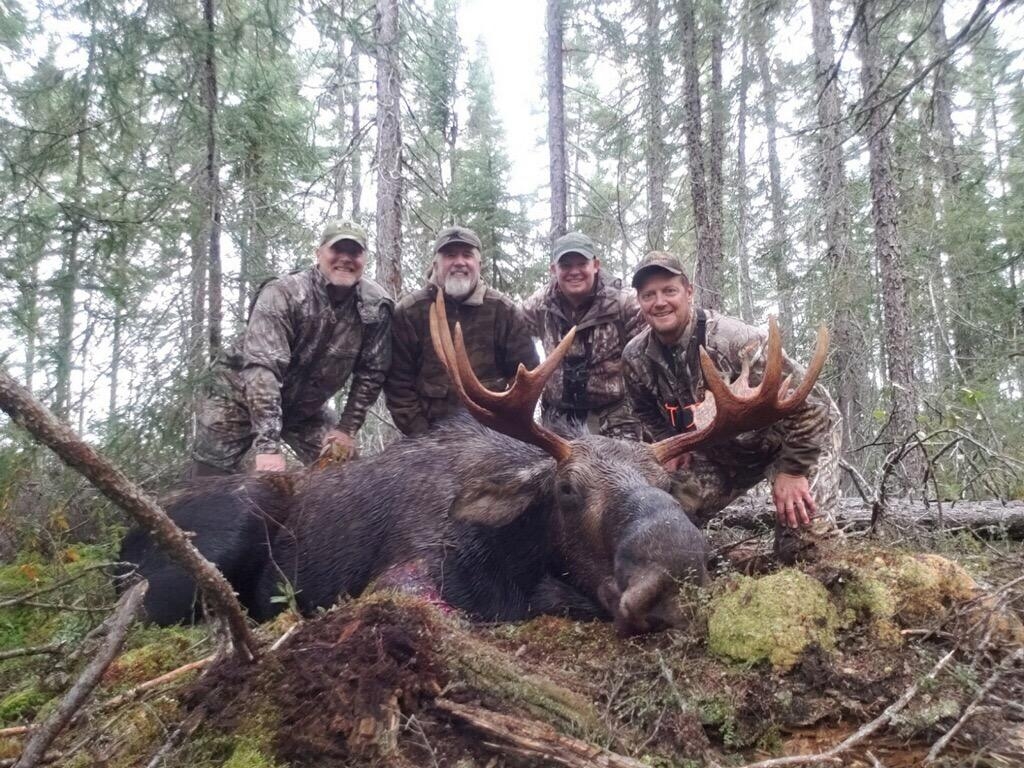 Packages
Please call us on the availability of adult Moose tags, package price, and flying rates. We offer Unguided Moose Hunts.
Residents with their own tags are welcome to rent open outpost camps and cabins at Walleye Cove.
Check-in 2:00 pm, check out is 10 am
Hunt Includes:
Accommodations in our Base Camp cottages or outpost cabins
Orientation on the hunting area
Boat, motor, and gas
Flying out your Moose quarters
Meat locker for drive-in locations
We have seven fly-in cabin camps, three fly-in spike camps, and one camp you can drive to for hunting moose. Our non-resident adult Moose tags are for WMU 17, WMU 18A & WMU 18B.
Non-resident Moose Hunting Dates:
WMU 17: All start on September 20 (Rifles, Shotguns, Bows & Muzzleloader)
Please Note: Season for Ontario residents starts on the 18th for WMU 17
WMU 18A: Bows only start September 18 - Rifles, Shotguns & Muzzleloader start Oct 11
WMU 18B: Bows & Muzzleloader only start September 18 - Rifle & Shotguns start Oct 11
Not Included in Fee and Package:
Export Fee - $35
Non-Resident Moose Hunting License - $438.28
Taxes
Food & Drink (Housekeeping Cabins)
Firearms Declaration Form (see below)
Hunt Preparation:
Canadian Firearms Declaration Form: Download the CAFC 909 form
Phone toll-free 1-800-731-4000 for more information on the forms
Canadian Firearms Declaration Form Continuation Sheet: Download the CAFC 910 form
Please Note: Do not sign your declaration form until the customs agent asks you to.
What to Bring:
Bring a valid hunting license and outdoor card. This is required to issue you a non-resident hunting license.
Warm Clothes (Never know what the temperature will be)
Hunter Orange hat and vest (camo orange is not acceptable in Ontario)
Previous hunting license CN or US
Weapons of choice, gun or bow
Soft gun case or bow case (legal requirement)
Bug jacket and repellent
Rain Gear
Extra Footwear/Gloves
Flashlights (Batteries) (Waterproof flashlight is best)
Binoculars
Coolers & Cheesecloth Bags for meat
Hunting knife/sharpener
Fishing rod and tackle
Food & Drink
Don't forget to bring stuff to cook fish with. Fishing for tasty Walleyes is awesome at all our camps.
WMU Maps: