Teabeau Lake Outpost (Albany River) - Ontario, Canada
Flying out to Teabeau Lake is more than a fishing trip; it's a great adventure and something our guests will talk about for the rest of their lives. It's our farthest north most remote camp and is a 75-minute flight from Nakina Airport.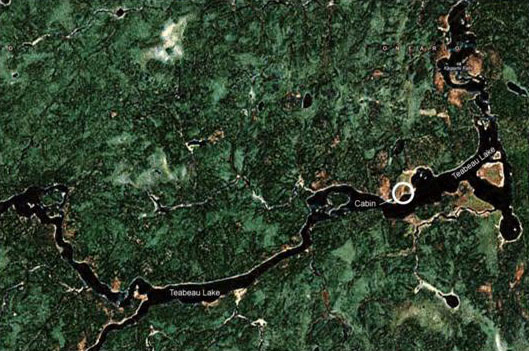 About Teabeau Lake (Albany River)
Teabeau Lake is a widening of the famous Albany River. This is a place where history was made. The great Voyageurs first explored Northern Ontario using the river. Later, the Coureurs de Bois used the river to transport hides for the fur trade from aboriginal villages in the deep wilderness to Fort Albany. They are all gone and all that's left is beautiful pristine water, wildlife, and more fish than you can imagine.
Our cabin is located on the very best spot in the whole river. Upriver from the cabin are a series of rapids as well as deep swirling pools. There are fish everywhere. This up-river adventure is not for the faint of heart. The water is white and fast. There are lots of rocks and currents that will make your heart quicken. Of course, you don't need to do the rapids but that is passing on a great experience that you will remember forever. You just need to be ready for more than just a quiet spot of fishing. Taking the portage boat above the rapids opens up 5 more miles of river to explore.
Max Depth: 20 feet
Shoreline: 57 miles
Area: Kagiami Falls to second rapids upriver - 23 square miles
Fish Species: Walleye, Northern Pike, Brook Trout & Sturgeon
Best Known For: Lots of Walleyes, Big Northern Pike & Big Brook Trout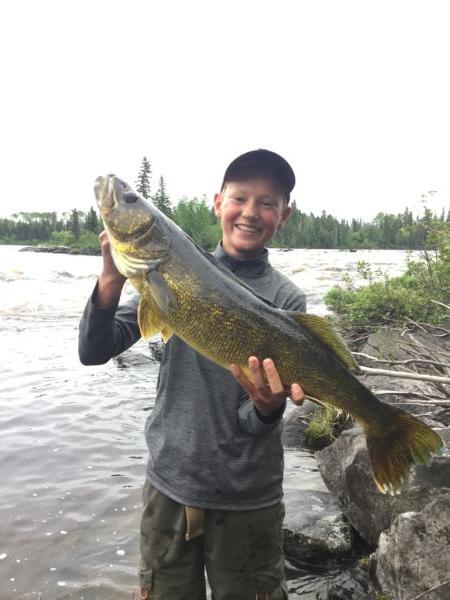 Fly-In Fishing
Walleye - The Albany River is stuffed with Walleye. Not only can you catch more than you can imagine, but the most common sizes are 22 to 25 inches. Depending on how fat the Walleye is; you are looking at an average of 3.5 to 5 pounds. Some of our guests were saying they were having trouble catching Walleyes small enough to eat. The walleyes are available in great numbers and don't worry you will catch 16 and 17-inch Walleyes for lunch and dinner.
Northern Pike - The Albany River also produces Monster Northern Pike. The Pike have Walleye, Chub, Suckers, and Brook Trout to feast on. The population of Pike is not like our other lakes. You are not going to catch lots of smaller Pike but the Pike you do catch are big. Our guests have caught many 20+-pound Pike. With the exception of that one Monster Pike that was caught at Base Camp, all the biggest Pike comes from the Albany River. There are 25 to 30-pound Northern Pike in this river and many say the next World Record Pike may come from the Albany.
Brook Trout - The biggest attraction to the Albany River is the Brook Trout Fishing. The Albany River is the top Brook Trout river in Ontario and many say the Albany is just as good as the top Brook Trout rivers in Northern Quebec and Newfoundland. It's a matter of opinion but many feel the Albany River has the best Brook Trout fishing in the world. Brook Trout are common in the 1 to 4-pound range. Guest on occasion catch 5 and even 6-pounders. Occasionally, 7 and even 8-pound Brook Trout get caught but a trout this big is rare. The possibility is there.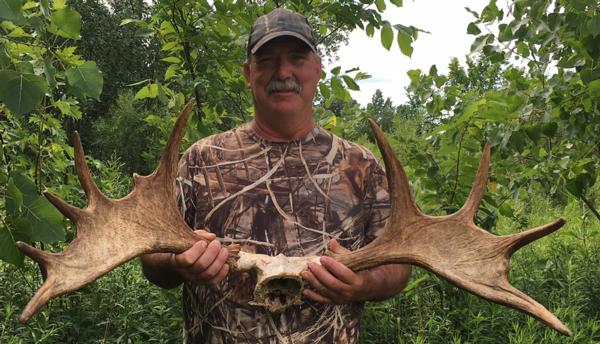 Fly-In Moose Hunting
Almost every year there are a few bulls with a 50" spread or bigger are taken from our camps. But most bulls taken run from a 44" - 48" spread. Read more about our moose hunting at the link below.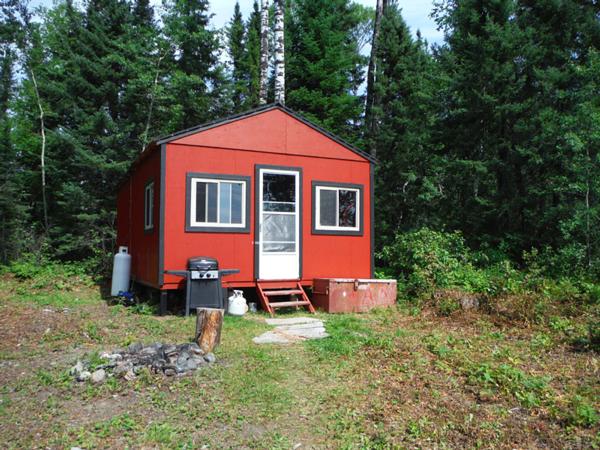 Overview of the Cabin
The cabin we presently have on Teabeau Lake is rustic. It does the job. The fly to lodge is remote, solid, and keeps the weather out. There is a wood-burning stove that heats the cabin up quickly, which is a welcoming feeling when the weather turns bad. The cabin sleeps 8 people in bunk beds. The cabin is fully equipped with propane lights, a propane stove, and a refrigerator. There are pots, pans, dishes, coffee pots & cups, strainers, stove-top toasters, cutlery, can openers, and everything else you need. The beds are bunk beds with mattresses. You need to bring your own pillow, sleeping bag, and bedroll cover. There is also a table with benches and chairs. We now have electricity, a shower, and running water at the sink.
We also have a new floating dock system. We cut a walking trail around the outflow rapids that allows access by foot to downstream fishing for Brook Trout and Walleye. There are some nice areas for fly fishing below the rapids. Downstream fishing is by foot at this time. We have no boats or canoes below the rapids at this time.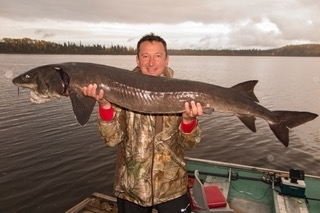 Equipment List
Electricity via generator /electric lights
Shower w/running water at the sink
Propane fridge and stove /oven
Propane grill and fish fryer
Kitchen cookware and dining ware
14 ft boats w/swivel seats 9.9 hp 2 stroke motors, anchors, paddles.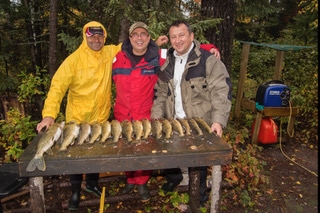 Booking & Reservations
Teabeau Lake Outpost has a max occupancy of 8. If you would like to reserve the Teabeau Lake Outpost for your group, please click the link below or give us a call at 7 Lakes Wilderness Camps to speak with Brad or Helen.