Ontario Hunting
Moose Hunting
Nakina is the top Moose hunting destination in Ontario and maybe all of Canada. Due to the high population of Moose; we receive way more adult Moose tags than outfitters that are farther south. This is why we are able to provide archery (bow) hunts, rifle hunts and Muzzleloader hunts at a very reasonable price.
Both guided and unguided Moose hunting packages are available for WMU 17, WMU 18A and WMU 18B. Ontario residents with their own tags are welcome to rent one of our cabins if available.
We have fly-in Moose hunting at all our outpost camps. We also have three fly-in spike camps for serious Moose hunters that don't mind roughing it a little bit. Fly-in hunting is mainly done from boat or walking well used game trails or burn areas while starting to "call" to the bulls as you're concealed to get a shot. Our fly-in groups often get their Moose.
We also have drive-to Moose hunting from our Walley Cove Lodge on Lower Twin Lake. Moose hunting out of our Base Camp gives you multiple Moose hunting landscapes to explore. There are endless miles of old logging roads, logged areas, burn areas and ATV trails, which allows you to go way back into the bush.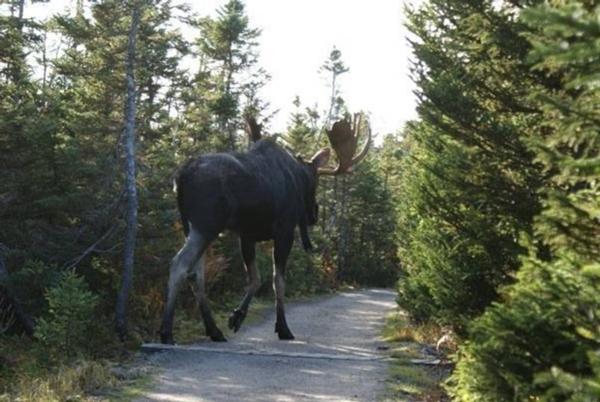 Hunting Trophy Moose in Canada
Adult Bull Moose are common between 900 and 1300 pounds in Ontario. North of Nakina there has been Moose seen by guests that were estimated to be 1800 pounds. Some say they have seen even bigger Moose and here is a picture of a giant Moose photographed in Ontario in 2008 to show you that they can get big.
Grouse Hunting
We have exceptional Grouse hunting in the Nakina area with three subspecies; Ruffed, Sharptail, and Spruce.
We rent cabins for Grouse hunting at our Walleye Cove Lodge on Lower Twin Lake. Bird dogs are always welcome.
We will provide you with maps and information to get started upon arrival.
Moose Hunting at 7 Lakes Wilderness Camps.
Moose Hunting at 7 Lakes Wilderness Camps.